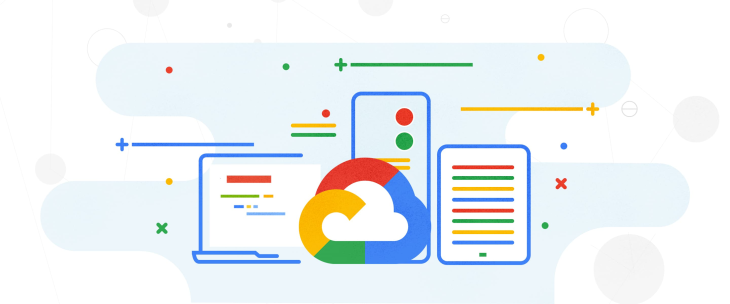 Authors & Credits:
Ben Hagai Global Migration Practice Lead, Professional Services, Google Cloud Kuntal MitraTechnical Account Manager, Professional Services, Google Cloud

Contact us

Cloud migration is one of the biggest organizational changes that technologists will go through this decade, with a profound impact on a business's ability to innovate and its overall economics. Migrating to the cloud gives organizations an unique opportunity to not only improve their flexibility, reduce costs and focus on their core competencies, but ultimately, to fully transform how they operate. At a minimum, the business advantages of migrating to the cloud include:
Purchasing and consuming resources on a pay-as-you-go basis, and increasing or decreasing them as needed for optimal utilization
Converting capital expenses into operating expenses
Enabling rapid innovation without the expense and complexities of hardware procurement and infrastructure management
Enjoying faster time to market
When done right, it is a gradual migration of data, applications, infrastructure, and other business elements, resulting in business transformation. But cloud migration isn't a one-and-done proposition. To succeed, it requires careful analysis, planning, and execution of a comprehensive organizational and technical strategy that meets your overall business goals.
Working with customers,  the Google Cloud Professional Services team have developed a migration factory, a methodology for performing large-scale migrations to the cloud. Designed for migrating enterprise applications, migration factory offers an  organizational structure and set of processes that helps you create a scaled team with the right skills and understanding of your organization, and set clearly defined goals that are closely measured through the life of the program.
For each application that you want to move, the migration factory approach takes an end-to-end view of the project, including:
Building the business case for migrating the specific application
Assessing the current application and infrastructure estate
Developing a migration plan
This set of strategic activities helps inform the migration path for your applications, describes the migration execution, and helps establish post-migration operations principles. All of this makes your migration simpler and more effective.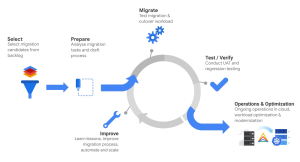 In our experience, a thoughtful and well-designed migration factory can help with several common challenges:
Unclear goals: Lack of cohesive vision and cloud adoption strategy across the organization; these can be short-term, long-term or both.
Lack of sponsorship: Not having the right level of investments of skills, talent, time and effort.
Poor migration planning: Embarking on a cloud journey without understanding the complexity of your existing application estate.
Wrong technology choice: A failure to properly review the workloads to be migrated and choose the right cloud product and service model. With the right technology choice, businesses can successfully migrate to the cloud to derive cost savings, competitive advantage along with rapid innovation.
Unclear delivery and operational model: To be successful, you need the right mix of people, process and technology across the organization—before, during and after the migration.
In addition, a migration factory model can help organizations derive a number of benefits:
Velocity: With a mature operational model and plus automation, migration factory projects can proceed very quickly.
Reduced costs: Having mature and efficient processes streamlines the actual migration. Google Cloud customers that follow a migration factory approach can see significantly lower costs.
Reduced risk: Identifying the risk tolerance of the workloads being migrated up-front helps shorten overall downtime and/or unplanned downtime during the migration—so you can get back to software development sooner.
Quality: Well-defined and automated processes result in more consistent and error-free migrations.
A foundation for larger cloud-native initiatives: The learnings, best practices and standards you gain as a part of the migration process position your team to take on more complex and challenging cloud initiatives down the road.
Migrating to the cloud can feel like a big undertaking, but with the proper preparation, it can be immensely rewarding. To learn more about how to design and build a cloud migration factory Google team has written a white paper "Building a Large Scale Migration Program with Google Cloud," filled with practical guidance, strategies and implementation details to help you get started. As a Google Cloud Partners, Mekas Google Certified Architects are ready to help. Contact our Cloud consulting team  for more information.